Guest
Posts: n/a
Mentioned: Post(s)
Tagged: Thread(s)
Quoted: Post(s)
mkII differences in years and P-type/L-type
---
USDM 2nd generation Supras:
*1982: 145hp 150ft/lbs. 8.8:1 compression, vaccuum advanced distributor, glass antenna, door lock located in center console, key lock gas filler door, black hatch and bumper, 85mph speedometer, 3.72 standard gearing, upper wing was an option, tail lights had reverse light in the center, the early 1982 models had only "SUPRA" on the nose badge and b-pillar covers, door handles open by pulling sideways
1982/1983 front view
1982/1983 rear view
*1983: 150hp 159ft/lbs., electronic advanced distributor, switched to power antenna, had "Celica Supra" on nose badge and B-pillar, the 5 speeds had 4.10 gears, 1st year the cars had mudflaps
*1984: automatics= kept the 1983 engine
5 speeds= got the 9.2:1 compression ratio, D-shaped intake runners, 160hp 163 ft/lb engine
1st year the mkII had wrap around turn signals and a new style steering wheel, also got a bump in a 130mph speedometer, got the billboard "SUPRA" sticker on the hatch, the hatch and bumper received same color treatment (no more black), all 5 speeds received the 4.30 gears all automatics got 4.10 gears, received an internal fuel pump, the door lock switch was moved to the drivers side door, the tail lights also changed to having the reverse light closer to the liscense plate, door handles open by pulling up, the automatic climate control display changed style
1984/1985 front view; wrap around turn signals
1984 rear view showing new tail lights and billboard "Supra" sticker
*1985: all the mkIIs had the new 161hp 169 ft/lb engine and recieved a new double spoiler, also got heated mirrors that activate with the rear defroster, also received a different style TPS and EGR system, a factory alarm and a knock sensor, the door handles had a green-lighted keyhole that was continued to 1986
1985 rear/side showing the new double spoiler
*1986: 3rd brake light added to meet regulations, AM Stereo, smaller ignition key = hard to find
ignition keys:
Both keys from my two 1985 cars...
Key from a 1986, notice it's much smaller than the others
P-(Performance) type and L-(Luxury) type differences:
the leather interior was not available on P-types until 1983, the L-types did not recieve the 8 way adjustable seats that came standard on P-type models, L-type wheels were 14X5.5" until 1985 when they changed to 15x6" and a P-type style. All P-type wheels are 14x7" alloys. L-types had digital dash w/ trip computer as an option. All P-types were available with headlight washers (except 1982 for the washers) and wheel flares, the L-types had no flares or headlight washers
L-type wheel (82-84) 14 x 5.5", +27mm offset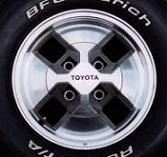 L-type wheel (1985 only) 15 x 6", +20mm offset.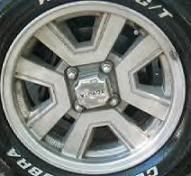 P-type wheel 14 x 7", +8mm offset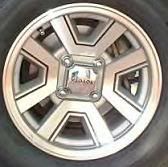 All have a 4:114.3 bolt circle/bolt pattern.
~Leather Interiors in the MkII~
P-types:
1982* leather not available
1983* available in black, a one year only color - still trying to confirm Terra Cotta
1984* available in Maroon and Black/Grey; L-type seats were also available in the '84 P-types as well
1985* available in Maroon, Black/Grey and first year Blue became availabe
1986* same colors as '85
L-types:
1982* leather available in Black and Terra Cotta, material appears to look and feel like vinyl
1983* leather available in the same colors, but now the seat material is the actual leather
1984* leather available in Maroon and Black/Grey
1985* leather not available
1986* L-type was discontinued
*Note; mkII Supra started production in 1981 and ended in 1985...the cars that were made from August-December of 1985 were classified as 1986 models as with any year car made between those months they are named after the next year...some July models are hybrids, having features of both the production date and next years model.
Thanks to Chris Eng, Arch, Charles, Dogstar, Dean at CS.com and any others I may have forgotten in helping me gather the information and pics
Guest
Posts: n/a
Mentioned: Post(s)
Tagged: Thread(s)
Quoted: Post(s)
Thats cool! I never knew about the key difference. I just wish those 15" L-type wheels were wider too...
Join Date: Feb 2006
Posts: 17
Mentioned: 0 Post(s)
Tagged: 0 Thread(s)
Quoted: 0 Post(s)
tanya on the silver and black 84/85 where can i find rims like that i am having
fun trying to find rims for this car. i dont want to use spacers. i found a set on horsepowerfreaks.com but i dont like them that much and they r a +10 offset
Guest
Posts: n/a
Mentioned: Post(s)
Tagged: Thread(s)
Quoted: Post(s)
WOW!! i just learned 65% of the info i have been trying to find online for 2 weeks now!!
Junior Member
Join Date: Oct 2017
Posts: 10
Mentioned: 0 Post(s)
Tagged: 0 Thread(s)
Quoted: 0 Post(s)
This is a very serious issue, I do not understand it very well yet. But thanks to you everything becomes clear.
Posting Rules

You may not post new threads

You may not post replies

You may not post attachments

You may not edit your posts

---

HTML code is Off

---